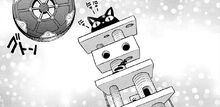 The Black Cat Secret Meeting (黒猫秘密集会, Kuroneko Himitsu Shuukai) is a relaxation day, which used to be held once a year, but moved on to once every century, because at first, it was a social gathering for only Black Cats, but then Shinigamis were welcome as well, and as the Shinigamis were consecutively winning in every game, it turned into a serious battle, as the Black Cats resented their losses and started preparing harassed goods as the next secret winning prize for the Shinigami team for every next meeting.
Ad blocker interference detected!
Wikia is a free-to-use site that makes money from advertising. We have a modified experience for viewers using ad blockers

Wikia is not accessible if you've made further modifications. Remove the custom ad blocker rule(s) and the page will load as expected.