The Crescent Moon Shop (三日月堂 Mikazukido) has been in business for 4000 years in scythe sharpening. It is currently owned by the twins Refuto and Raito, after the 3rd generation master went to the Wheel of Reincarnation after 700 years of trade, and has business trouble ever since.
Products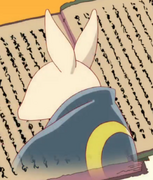 Made by the 3rd Generation
Instant Purification Eight Strike Transforming Scythe (即効浄化転化八当の鎌 Sotsukou Shouka Tenka Hatto no Kama) (Failure)
Lasting Fresh Scythe (連日新鮮の鎌 Renjitsu Shinsen no Kama) (Failure)
Scythe of Remote Control (遠隔操作の鎌 Enkaku Soosa no Kama) (Failure) (Anime only)
Whispering Princess (囁姫 Sasayuki-Hime)[1]
Silver Scythe (銀色の鎌 Kiniro no Kama) (Failure)[2]
Sanagi Scythe (蛹の鎌 Sanagi no Kama)[3]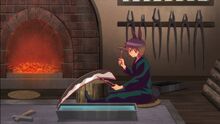 Made by the 4th Generation
Thankful Purifying Scythe (成仏感謝の鎌 Joubutsu Kansha no Kama)
Scythe Wax (カマ用ワックス Kamayou Wax)[4]
Cat Spirit Use Scythe (猫霊専用の鎌 Nekorei Senyō no Kama) (Discontinued)[5]
Recovery Cream (リカバリークリーム) (Discontinued)[6]
Chainsaw Scythe (チェーンソーの鎌 Cheenusoo no Kama) (Discontinued)[7]
Midas Wax (金運ワックス Kinun Wax)[8]
Cedar Pollen (スギ花粉 Sugi Kafun)[9]
Ultralight Scythe NAGARA (超軽量の鎌 Choukeiryou no Kama NAGARA) (Discontinued)[10]
Rust Removal (サビ落とし Sabi Otoshi)[11]
Molting Promotion Spray (脱皮促進スプレー Dappi Sokushin Supuree)[12]
Trivia
Gallery
References
Ad blocker interference detected!
Wikia is a free-to-use site that makes money from advertising. We have a modified experience for viewers using ad blockers

Wikia is not accessible if you've made further modifications. Remove the custom ad blocker rule(s) and the page will load as expected.