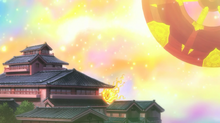 The Damashigami Company (堕魔死神カンパニー) is an illegal business led by Sabato Rokudō, in which a group of renegade Shinigami steal the souls of people who are not meant to die yet in order to pad their quotas and earn money.
Rinne finds this practice disgusting and refuses to take over his father's business.
The company was established, using the money of Kain's Mother, whom Sabato conned.
It is difficult for anyone not affiliated with the company to find it on their own, unless invited or given permission.