Featured Article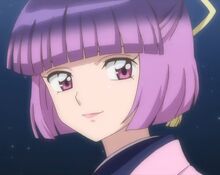 Otome Rokudō is the mother of Rinne Rokudō. She was known as a young and beautiful genius Shinigami, but was presumed dead for years. It turned out she was carried into the Wheel of Reincarnation by a herd of stampeding buffalo and had gone through many lives -- initially as a killifish, a canary, and an anteater until finally being reborn as a human girl named Ichigo.
Create blog post
Blogs
Was looking around the wiki and I forgot where it is but I saw comments about whether we should stick to calling the series Rin-ne or Kyoukai no Rinne/Kyokai no Rinne. When I adopted this ~8 years ol…

Read more >
See more >
Ad blocker interference detected!
Wikia is a free-to-use site that makes money from advertising. We have a modified experience for viewers using ad blockers

Wikia is not accessible if you've made further modifications. Remove the custom ad blocker rule(s) and the page will load as expected.