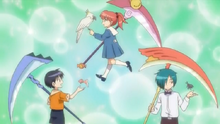 Shinigami Kid Training is a curriculum program of elementary school, in which Shinigami Kids homestay in the living world to practice guiding spirits to the Wheel of Reincarnation, until 50 points is earned. As it is hard to help human spirits pass on, they guide animal spirits.
50 points for evil spirits
30 points for a spirit bound by issues
10 points for a spirit that makes it to the end of his/her lifespan
5 points for dogs and cats
2 points for birds
1 point for goldfish and bugs
So far, only Shoma is prominent.
Ad blocker interference detected!
Wikia is a free-to-use site that makes money from advertising. We have a modified experience for viewers using ad blockers

Wikia is not accessible if you've made further modifications. Remove the custom ad blocker rule(s) and the page will load as expected.